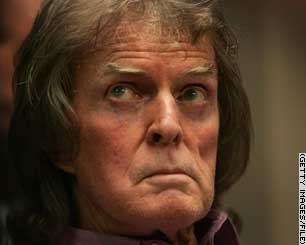 DID CBS RADIO OPEN ITSELF UP? WE'LL NEVER REALLY KNOW (AND DOESN'T IMUS LOOK LIKE SATAN HIMSELF???)
"Company acknowledges that Artist's services to be rendered hereunder are of a unique, extraordinary, irreverent, intellectual, topical, controversial and personal character and that programs of the same general type and nature containing these components are desired by Company and are consistent with Company rules and policies."
The contract clause above makes it seem that CBS wanted controveresy, but apparantly provided no guidelines to advise just how far the "shock jock" could go. Not only that, but Imus' attorney states that he was to have received a warning before he could be sacked. Of course, there was no excuse for his comments regarding the Rutgers team, but it seems that CBS left themselves open for this type of litigation.
We'll never reallly know, though. Mark your notebooks that within a few months --- before this case would ever get into a courtroom --- Imus and CBS will negotiate a settlement that will keep the radio star with a good lifestyle and keep the Imus Ranch in New Mexico going for awhile.